The Association for Progressive Communications (APC) and partners are hosting their ninth Disco-tech event in conjunction with the 2019 Internet Governance Forum (IGF) in Berlin, on the evening of 26 November. We invite you to join us for this peer-learning event about utilising the potential of information and communications technologies (ICTs) in strategies to mitigate and adapt to the climate crisis. Disco-tech in 2019 will focus on the environmental impact of ICTs.
Disco-tech 2019 on the environmental impact of ICTs
You may also RSVP to discotech@apc.org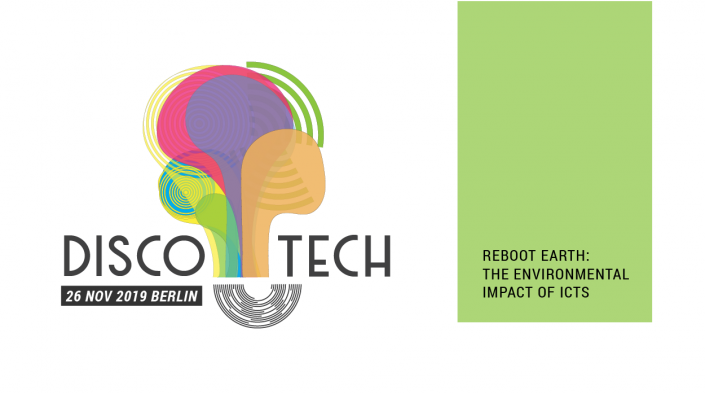 "Disco-techs" are a series of informal evening events that are designed as learning exchanges, to bridge the gaps between technical and political solutions to attacks on internet rights and freedoms.
In this edition, Disco-tech will provide a safe space for participants to share their experiences in mitigating the environmental and social impacts of ICTs, and facilitate the cross-regional collaboration with key actors who can link local struggles and global action.
The Disco-tech at IGF 2019 will:
Explore the indicators, challenges and opportunities that define the situations we are facing and ways we can mitigate environmental impacts and improve social resilience.

Bring to light personal and collective stories of ways to handle the environmental impact of ICTs and improve people's lives at an individual, national or regional level.

Share related strategies, initiatives and actions, including tech demos, policy ideas and advocacy strategies.
Disco-tech is proactive. Presenters and participants will share best practices, visionary ideas and make connections that will have direct impact on their work.
Provisional list of speakers:
Alexandra Lutz, working at the European Parliament, France
Anulekha Nandi, Digital Empowerment Foundation, India
Camila Nobrega, Intervozes, Brazil
Florencia Roveri, Nodo TAU, Argentina
Isedua Oribhabo Access Now, USA
Kemly Camacho, Sulá Batsú, Costa Rica
Leandro Navarro, Pangea, Spain
Manfred Santen, Greenpeace, Germany
Michelle Thorne, Mozilla, Germany
Pavel Antonov, BlueLink, Bulgaria
Vandria Borari, indigenous leader from Borari peoples, Pará, Brazil
Refreshments will be served at 19:00 and a light dinner will be provided during the break.
Location: Schwuz
Getting there
Public transport:
From Estrel use the M41 bus from  Zigrastrasse station to Geygerstrasse and walk the rest (around 16 mins for whole trip). The bus goes throughout the night.
Taxi:
Call a taxi at the reception and share with 4 people in normal one or 7 people in large taxi (called "Großraumtaxi" in German). Price for this distance is around 10 Euro, which is similar to public transportation if split between the people taking the taxi.
When
November 26th, 2019 7:00 PM through 10:00 PM
Location
SchwuZ




Rollbergstr. 26




Berlin

,

BE

12053




Germany